9 days. Just 9 more days until every football fan is finally satisfied with what they crave, the start of the Barclays Premier League. From the end of the last season up until now we've had the Euros and the Olympic football, both of which have been entertaining but the familiar story of England/GB getting knocked out on penalties. However the one thing which is always guaranteed during the summer in England, except the rain, is the transfer market and the abundance of the sublime to quite ridiculous stories it can conjure up, from Andy Carroll to AC Milan and Zlatan Ibrahimovic to PSG, theres a little under a month for all teams to improve their squads so they can reach their goals for this coming season.
Ibra at his PSG unveiling.
I'm here to talk mainly about Man Utd. I've been a fan since I was a little boy and I constantly try and keep up with whats happening inside the club as well as on the pitch.
A new era?
As we saw last summer, Ferguson had spent the best part of £55m on David De Gea (20), Phil Jones (19) and Ashley Young. It was clear to see what SAF was planning to do. Rebuild his squad for the future. After seeing the likes of Paul Scholes (for now), Edwin van der Sar, Wes Brown and John O'Shea either being sold or retiring, SAF decided it was now time to rebuild his squad yet again. Last season was always going to be a season of transition with youngsters getting more and more playing time such as Danny Welbeck, Tom Cleverly, Rafael and Fabio da Silva, Chris Smalling along with the new boys David de Gea and Phil Jones.
The season had started well enough up and until the amount of injuries in the midfield department became so dire that Paul Scholes had to come out of retirement to allow United to bring in some more creativity in the central midfield department which has become arguably our weaken position during the last few seasons. With losing out on the title to close rivals Manchester City by only 8 goals, it was a clear message that with maybe a few additions in the CM department, next season would be one with more creative options.
As ever, the summer started slow with a few rumours here and there as to who would be 'the star midfielder' for the new season and the names which kept popping up were Lille's Eden Hazard and Borussia Dortmund's Shinji Kagawa. United made a move for Eden Hazard first, who then decided to keep the world guessing which club he would sign for. One minute it was Spurs, the next Arsenal and so forth. Finally he rattled it down the three English clubs. Man Utd/City and Chelsea. In the end he chose Chelsea who splashed out £32m for him.
Hazard chose Chelsea over the two Manchester clubs.
With missing out on a real gem in my opinion United then pursued Japanese playmaker Shinji Kagawa from the Bundesliga champions Borussia Dortmund. This story was quick to develop after the Eden Hazard saga and Kagawa was soon a Man Utd player with the fee believed to be £12m+£4/5m in add ons depending on his and the clubs success. SAF also bought young CM Nick Powell from Crewe Alexandra for about £4m as well.
The new kid on the block.
He is to be the our new creator-in-cheif. But one question remained, where would Kagawa, a CAM by nature fit in a classic 442 formation? In my opinion, I believe the 442 should be abounded by United, even if it is SAF favoured formation. We've seen the top european teams such as Bayern Munich and Real Madrid move to a 4231 formation with two deeper defensive midfielders and three constantly rotating attackers. After the quite frankly joke Champions League and Europa League runs in which we were being out numbered in midfield against average teams like FC Basel and Athelic Bilbao, the 442 was in danger of being useless. We could easily move to a 4231 formation and still get the best or even better of our players in the coming years.
Team for next season
GK
- Without doubt it should be
David de Gea
, although he did have quite a shaky start to the season which led to him being replaced by Anders Lindegaard, I firmly believe and always have that de Gea will soon be the best GK in the league and maybe in the world in a few years. His shot stopping is superb as is his distribution. All he needs to work on his is physique and he should soon be 'Stoke City proof'.
LB
-
Patrice Evra
has started to show sign of deterioration notably against Man City during the infamous 6-1 defeat. Although he's still as much as a threat going forward, defensively he's become a liability in the big games. However, seeing as we don't have an alternative to him, he will always be the 1st name on the team sheet come rain or shine.
CB
-
Nemanja Vidic
was sternly missed last season and we will never what could've been if he was fully fit. In my eyes he's the best CB in the world closely followed by Thiago Silva and Pepe. He's tough, strong in the tackle, a beast in the air and has excellent leadership skills along with consistency.
CB
- Last season SAF admitted
Rio Ferdinand
had lost some pace yet Rio stepped up his game to prove the boss wrong. During the back end of last season he formed a great partnership with Jonny Evans and hopefully he can continue his form into this season.
RB
- A fan favourite,
Rafael da Silva
has always been a lively player and now that he's gained the experience he's accumulated over previous campaigns he is now to be a solid addition to the team sheet. Having a great partnership with Antonio Valencia has seen Rafael become a great attacking threat and become more sturdy at the back.
CDM
-
Michael Carrick
proved all his doubters wrong, including myself, last season with his amazing partnership with Paul Scholes. He keeps the ball well, he can tackle (as seen from his pre season defensive roles) and is comfortable with using his head. A well rounded player and a consistent performer.
CDM
- I would put Paul Scholes or Tom Cleverly in here however neither are accomplished in a defensive position.
LAM
- This is where
Nani
will flourish. He won't have to do as much defensive work (not that he does) with the two holding players adding back up to the defence. Nani can cross, shoot and most importantly provide that killer spark needed to get a goal as he showed against Chelsea last season when he scored his wonder goal.
CAM
- Showing the world how good he was last season with Dortmund, I'm sure
Shinji Kagawa
will relish this role behind the striker. He's nimble enough to work in-between the oppositions defence and midfield. He can carry the ball forward supply that killer ball or even finish of the move with his two great feet. A very solid addition to the squad.
RAM
- Last season
Antonio Valencia
showed everyone how good he really was and in my opinion becoming the best winger in the league closely followed by Gareth Bale (who lacked consistency). Valencia ranked in second in the assist charts behind David Silva even though he only played around 23 matches last season averaging an assist every 1.5 games. He was our best crosser by a mile and showed his pace and raw power are an important attribute to his game by his goals against Wolves and Wigan away from home.
ST
-
Wayne Rooney
had his best season in a United shirt notching 27 goals in the league alone. Tap-ins, free-kicks, headers, long rangers. You name it, Rooney can do it. He may not be as clinical has RVP but he is the more complete player of the two and he has shown us exactly why SAF spent £30m on a 18 year old after his Euro 2004 campaign.
De Gea
Rafael Ferdinand Vidic Evra
? Carrick
Valencia Kagawa Nani
Rooney
Who should go?
I was never over the moon when we had signed
Ashley Young
for £18m from Aston Villa last season and even though he had great games against Arsenal and Spurs, he was often lost in games and became far too predictable during the back end of the campaign.
Park Ji Sung
was a great servant for the club but he became less technically able last season and was rightfully sold to QPR. At £30m and the clubs most expensive transfer
Dimitar Berbatov
had showed us the season before why SAF had paid that kind of money for him. However after the revelation of
Chicharito
and the new kid on the block
Danny Welbeck
Berba found himself as the 4th choice striker and always on the bench. Despite being the wrong side of 30 we can still get a good sum of money for him to bring in some new players as well as getting his high wages off the wage bill and improving the contracts of our key players.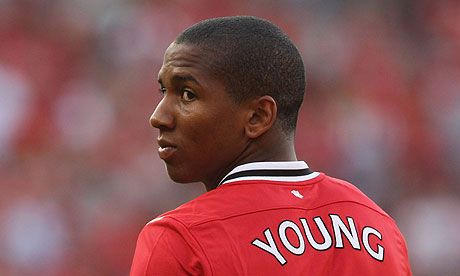 Who should come?
We still need cover for Evra since Fabio da Silva has been loaned to QPR and
Leighton Baines
would be an ideal cover or even starter for the team. A quality CDM would be needed to help Carrick and I believe that either Baines' team mate
Marouane Fellaini
or Athletic Bilbao's
Javi Martinez
would be great additions. Both can head the ball, distribute it, tackle, give cover to the defence as well as making surging runs in the opponents half
as well as with both being fairly young they would both fit SAF transfer market agenda. With Berbatov going that leaves a space on the bench for another striker, I would've loved to see Will Keanes name there but he sustained a serious injury and will be out for the majority of the season, so as a back up I'd really like
Gary Hooper
at the club. He's young and he's proved in the SPL how much of a good goal scorer he is.